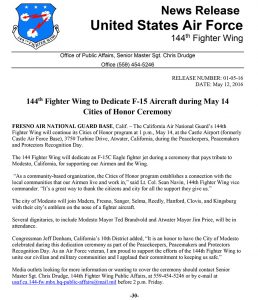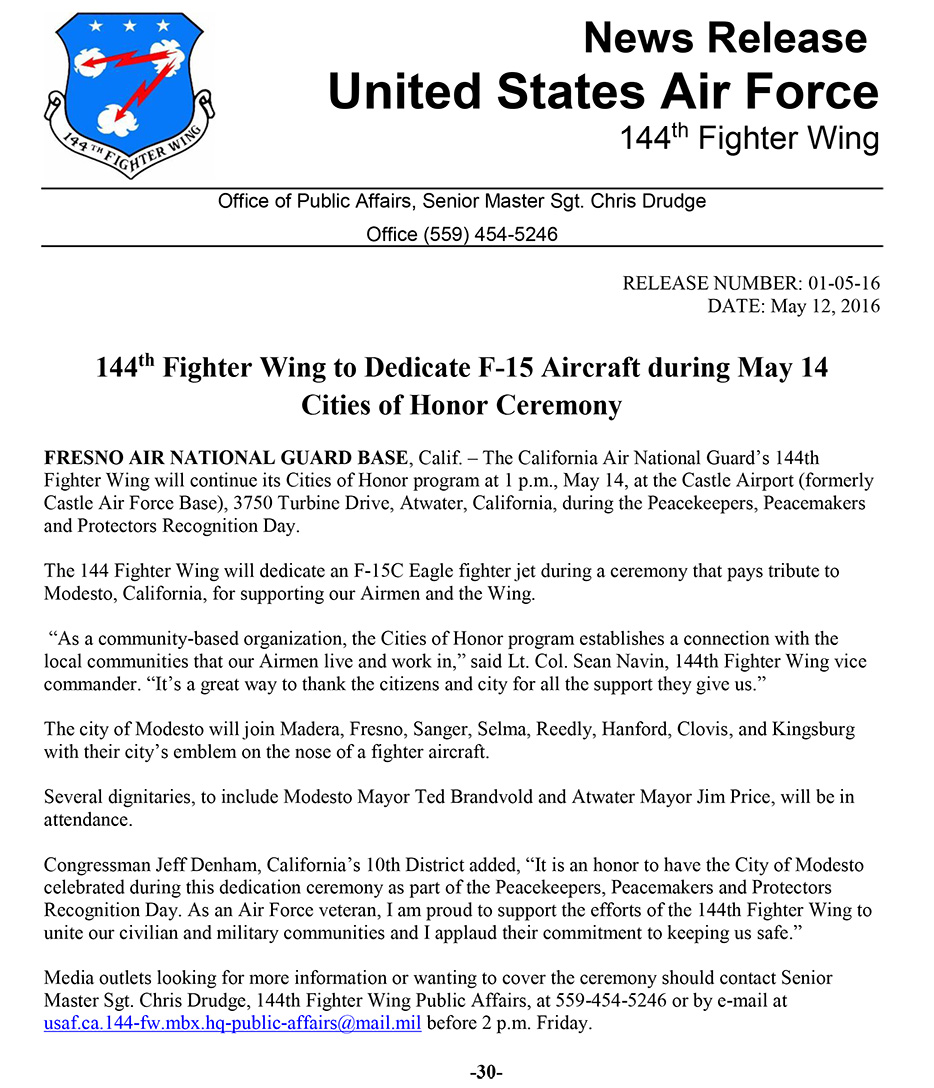 News Release
United States Air Force
144th Fighter Wing
Office of Public Affairs, Senior Master Sgt. Chris Drudge
Office (559) 454-5246
RELEASE NUMBER: 01-05-16
DATE: May 12, 2016
FRESNO AIR NATIONAL GUARD BASE, Calif. – The California Air National Guard's 144th Fighter Wing will continue its Cities of Honor program at 1 p.m., May 14, at the Castle Airport (formerly Castle Air Force Base), 3750 Turbine Drive, Atwater, California, during the Peacekeepers, Peacemakers and Protectors Recognition Day.
The 144 Fighter Wing will dedicate an F-15C Eagle fighter jet during a ceremony that pays tribute to Modesto, California, for supporting our Airmen and the Wing.
"As a community-based organization, the Cities of Honor program establishes a connection with the local communities that our Airmen live and work in," said Lt. Col. Sean Navin, 144th Fighter Wing vice commander. "It's a great way to thank the citizens and city for all the support they give us."
The city of Modesto will join Madera, Fresno, Sanger, Selma, Reedly, Hanford, Clovis, and Kingsburg with their city's emblem on the nose of a fighter aircraft.
Several dignitaries, to include Modesto Mayor Ted Brandvold and Atwater Mayor Jim Price, will be in attendance.
Congressman Jeff Denham, California's 10th District added, "It is an honor to have the City of Modesto celebrated during this dedication ceremony as part of the Peacekeepers, Peacemakers and Protectors Recognition Day. As an Air Force veteran, I am proud to support the efforts of the 144th Fighter Wing to unite our civilian and military communities and I applaud their commitment to keeping us safe."
Media outlets looking for more information or wanting to cover the ceremony should contact Senior Master Sgt. Chris Drudge, 144th Fighter Wing Public Affairs, at 559-454-5246 or by e-mail at usaf.ca.144-fw.mbx.hq-public-affairs@mail.mil before 2 p.m. Friday.