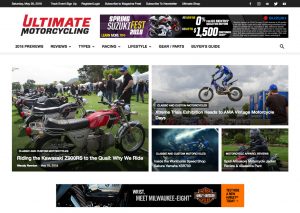 Ultimate Motorcycling mentioned Welcome Home Heroes recently in this article about the 2018 Quail Motorcycle Gathering.
Therapy and motorcycles do go together, and no one knows this better than Kenny Roberts. His True American Heroes Weekend is in its seventh year. The True American Heroes Dinner and Benefit Auction raises money going towards helping bridge the gap when veterans return home from battle and wait for DOD assessments of injuries resulting form chemical warfare and PTSD, working in conjunction with Welcome Home Heroes Foundation.

Roberts is very serious about this cause, as are his family and friends who come to support the effort. This year attendees included Kenny Roberts, Jr., Eddie Lawson, Bubba Shobert, Carlin Dunn, Chris Carter, Thad Wolff, Jeff Haney, and Shelina Moreda.

The True American Heroes Dinner held at the Quail Lodge Clubhouse sold out. Several donated items consisting of signed posters, clothing, wine, and a two-night stay and golf package, as well as an industry-sponsored custom Yamaha XSR700 that sold for $25,000.

Over $40,000 was raised with 100 percent going directly to the Welcome Home Heroes Foundation. The evening festivities were over early so that everyone could get a good nights rest and be ready and on time for the Roberts led ride in the morning.

The Sunday morning weather cooperated, and kickstands went up at 9 a.m. in front of the Quail Lodge. Everyone arrived with motorcycles fueled and stomachs topped off with coffee and pastries.
Read the entire article here.